Ourssy - Lampe Lumineuse 3D (Offre Saint-Valentin 2023)
Célébrez la Saint-Valentin avec cette lampe 3D unique ! 
Cette lampe 3D en forme d'ours est le cadeau idéal pour surprendre votre amoureux/se à l'occasion de la Saint-Valentin. Elle crée une ambiance romantique et chaleureuse dans votre maison grâce à son éclairage doux et captivant.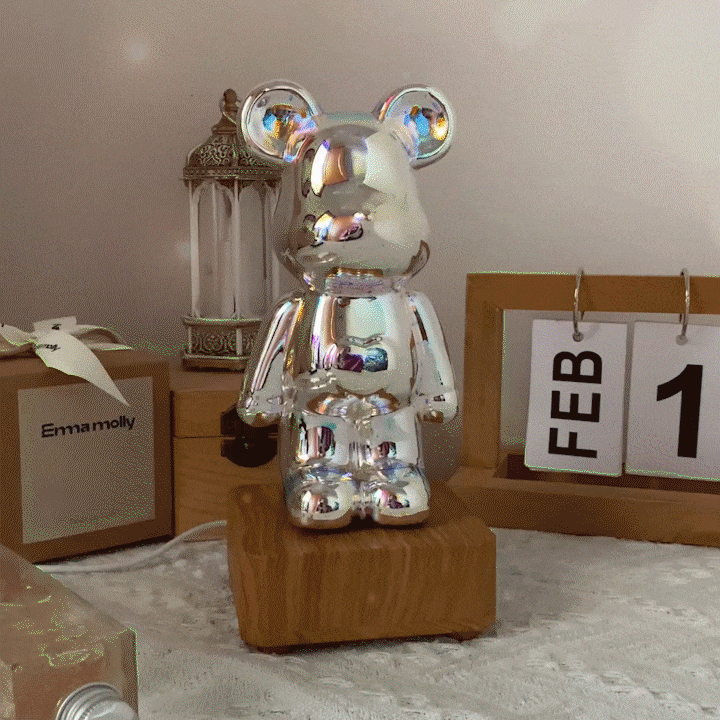 ∞ Une lampe, une infinité de couleurs : avec sa télécommande, vous pourrez facilement changer les couleurs pour créer l'ambiance parfaite en fonction de votre humeur et économiser de l'énergie.
Commandez dès maintenant pour offrir un cadeau unique et mémorable à votre partenaire.
Points forts :
Idée cadeau originale et romantique pour la Saint-Valentin
Forme 3D d'ours adorable pour une décoration intérieure charmante
Télécommande incluse 
Eclairage doux et captivant pour une ambiance paisible et romantique

Matériau : verre

Taille : 3.9 x 7.9inch = 10 x 20cm
Garantie : Nous nous engageons à vous livrer un produit premium ! Vous êtes satisfait ou intégralement remboursé.
Si pour une raison quelconque le produit ne vous convient pas ou que vous avez besoin d'assistance, envoyez vite un message à notre support. Alban, Miranda ou Mathieu se feront un plaisir de vous expliquer tout ce que vous devez savoir. 
GUARANTEE : We are committed to delivering you a premium product! You are satisfied or fully refunded.
If for some reason the product does not suit you or you need assistance, quickly send us a message at support@beryleo.com . Alban, Miranda or Mathieu will be happy to explain everything you need to know .
Delivery
: 9 to 16 working days.
livré conforme a la description
Je l'ai acheté pour les enfants aussi, ils aiment bien
Topissimo ! Rien a redire
Carton légèrement endommagé mais pas de problème pour la lampe