QualityBag - Sac à dos à bandoulière unisex avec USB pratique et sécurisée
ULTRA-PRATIQUE, NOMBREUX RANGEMENT, ET CHARGEUR DE TÉLÉPHONE !
Ne sacrifiez plus vos accessoires lorsque vous sortez. Notre sac vous offre une poche principale et plusieurs poches latérales pour ranger tous vos essentiels sans les entasser.
Son plus ? Une batterie externe à l'intérieur du sac. Il suffit alors de brancher le cordon de rechargement vos appareils au port extérieur du sac, et ça fonctionne !
Son tissu aux fibres résistantes et ses accroches solides vous permettent de vous organiser tout en simplicité.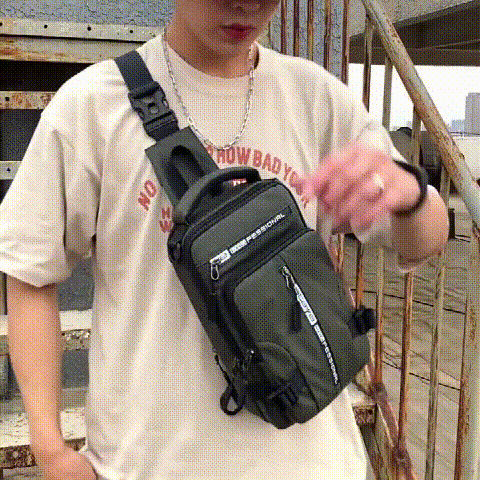 CARACTÉRISTIQUES 
▪️Matériel : Tissu polyester ultrarésistant
▪️Taille : 32 cm x 16 cm x 8 cm
GARANTIE: Nous nous engageons à vous livrer un produit premium ! Vous êtes satisfait ou intégralement remboursé.
Si pour une raison quelconque le produit ne vous convient pas ou que vous avez besoin d'assistance, envoyez vite un message à notre support. Alban, Miranda ou Mathieu se feront un plaisir de vous expliquer tout ce que vous devez savoir. 
GUARANTEE : We are committed to delivering you a premium product! You are satisfied or fully refunded.
If for some reason the product does not suit you or you need assistance, quickly send us a message at support@beryleo.com . Alban, Miranda or Mathieu will be happy to explain everything you need to know .
Delivery
: 9 to 16 working days.